About SWRO

Saved Whiskers Rescue Organization, Inc. (SWRO) was founded by Pamela J. Ott, a certified veterinary technician, and was incorporated May 6, 2003 as a 501(c)3 non-profit cat and kitten rescue.
SWRO is dedicated to saving the lives of countless felines by rescuing abused, abandoned and homeless cats, providing veterinary care and shelter until they can be placed into a loving home. We are a volunteer organization which relies solely on monetary donations. All funds go directly toward the care of the cats we rescue.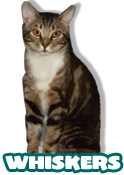 Whiskers
The amazing cat that started it all! Whiskers was rescued back on January 17, 2003 from an abusive owner. Although Whiskers was very trustful, it didn't stop his owner from abusing him so severely, that he was paralyzed for more then 10 weeks. His owner caused Whiskers severe pain from which he suffered from a broken back, cracked ribs, broken teeth, along with several abrasions. When Whiskers was rescued he was thin, dirty and smelly and was kept in a cold porcelain bathtub by his owner because he was paralyzed and couldn't make it to the litter box. To make matters worse for Whiskers, he even has a damaged retina. The doctor said most likely from blunt trauma afflicted to his eye.
Now Whiskers is safe at home with the founder of SWRO. That is the story of how Saved Whiskers Rescue Organization derived it's name.
Hence, the story of our mascot cat who is the inspiration behind S.W.R.O...there are too many silent "Whiskers" suffering every minute, of every day. It is our hope that with your help and support we can make a difference with our rescue.
No cat or kitten leaves S.W.R.O. without completely being vetted. That includes, vaccinations, spaying/neutering, worming treatments and feline leukemia/FIV testing. Won't you please help us make a difference in these orphaned animals lives by considering a donation? Remember, all our funds raised go completely to the care of the cats and kittens we rescue. Your donation is fully tax deductible as permitted by law.
Please lend your support by contributing a donation to our cause. Your donation will help assist in saving the lives of many cats.
DISCLAIMER:
Saved Whiskers Rescue Organization Inc., its administrators and its members cannot be held responsible for the actions of network members or those seeking assistance. Every attempt is made to provide accurate information. However, there is no warranty, either expressed or implied, as to accuracy and Saved Whiskers Rescue Organization, Inc. and its administrators cannot assume responsibility for the consequences of its use. Advice offered by this site or its members should never replace that of a veterinarian. Do not attempt to handle or trap a homeless cat without first obtaining advice from an experienced rescuer. Injury can be caused to you and/or the cat. Saved Whiskers Rescue Organization Inc, its administrators and members are not responsible or liable for any injury (physical or mental) to you and to third parties resulting from the use of this information, including but not limited to information you obtain from our organization via our website, email, postal service, or phone, asking questions, or reading or obtaining any information from within our organization.