SWRO'S ADOPTION
Cats Waiting To Be Adopted | Cats Already Adopted | Cat Happy Tails | Rainbow Bridge
ALL CATS ADOPTED FROM S.W.R.O. WILL ALREADY BE SPAYED/NEUTERED, VACCINATED, LEUKEMIA/AIDS TESTED, WORMED AND MICROCHIPPED (microchip-depends on availability and funding). UNLESS THE KITTEN IS UNDER 3 MONTHS OF AGE.
Please Click Here for the adoption form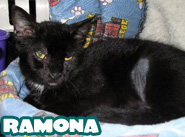 Ramona
Hi, my name is Ramona. I am a sweet girl who was abadoned by my owner. I was really sad because I was tossed out on the street like I was a piece of trash. I was living among a colony of ferals who weren't very nice to me. I have been spayed, vaccinated, leukemia/fiv tested, wormed and had flea & tick topical applied. Please give me a forever home.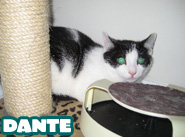 Dante
Hi, my name is Dante (I'm Gabe's brother). I was living out on the street with my mom & littermates when a senior ciitzen contacted SWRO in hopes of getting us off the street. I am very shy and scared, but with time and patience will come around. I do love to be rubbed and love to play. Can you give me and possibly my brother a home? Contact SWRO today.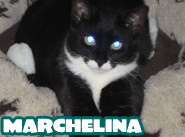 Marchelina
Hi, my name is Marchelina. I am a proud mama of two polydactyl kittens (Brad & Angie). I am a feral mom cat but I am trying my best to trust my foster mom. Please keep checking back because my two kittens will be in need of a home very shortly.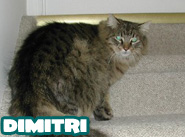 Dimitri
is a gorgeous long haired tabby cat that was living among his feral cat colony for the past 5 years when he became injured. His paw had a big gaping wound on it and he was just begging for someone to help him. He was immediately brought to the vet where they shaved his foot, cleaned it up and sent him home with antibiotics. Over the course of 6 weeks his foot healed. But at that point, we could not re-release him back to his colony because he adapted quite well inside. He used the litterbox right away, enjoyed getting tummy rubs after his foot was washed up every day, he allowed us to medicate him without putting up any fuse. He was then re-tested for leukemia/fiv which he is negative and was vaccinated for distemper & rabies. He is a really sweet cat, he just needs to get comfortable in his new environement. Once he does, you will see the real Dimitri come out. He really likes all the other kitties and enjoys grooming them. He's a big fluffly male kittiy looking for someone to love him as much as we do. Is that you?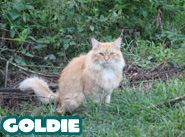 Goldie
is quite the shy cat at first, but once he gets to know you he will rub up against you and allow you to pet him. Goldie is a feral cat who really wants to find someone who will be patient with him so that he can come indoors to safetly, is that home yours?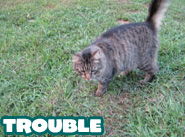 Trouble
is a feral cat that has really come around since being outdoors. She has come to love and appreciate her caregiver. We are hoping to find an understanding an patient home so that Trouble can be brough indoors to safety. She has been fully vetted and is a very social cat. I always find her butting heads with her sister double trouble. If you are interesed, contact us today.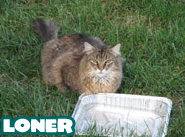 Loner
is a very shy feral cat that won't come out to eat until his caregiver walks away. He wants to be more friendly, but is just too scared. However, he really enjoys being with his littermates, but does often spend time alone. We would love to get him off the street and into safety, but he needs a really understanding owner with lots of patience.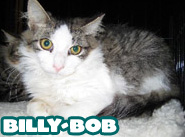 Billy-Bob
was rescued off the street where he was living behind a resturant in South Jersey with his colony. He is still shy and needs some work, but in time will come around and make a great pet. If you are willing to give this little guy a chance at a good life, please contact us today.
If you are interested in adopting one of our kitties, please fill out the adoption application online or call/e-mail us and request that one be sent to you either by mail or fax. Saved Whiskers Rescue Organization, Inc. prides itself on quality adoptions and works hard to create the perfect person/pet match. Our adoption policies are strict, but our 100% return policy requires us to make the right match from the start. If you have any questions, please feel free to contact us.
ADOPTION PROCESS
1. Once you have chosen the cat that you would like to adopt, please take some time to fill out the required adoption application either on-line or by calling us to receive an application by mail or fax. Please answer all questions honestly. Prospective cat adopters are encouraged to visit the kitty of interest to get an idea of how they interact. We suggest you give it a day or so to think about the decision of adoption. This is a big step for both you and the kitty.2. Once S.W.R.O. receives your application, it will be reviewed and references will be checked. It may take a couple of days from the time you complete your adoption application until your new kitty can come home. The length of time can depend on how easy it is to reach veterinary and other references. If you rent your home, we will need some evidence that cats are permitted where you live, and that there are no limitations on cat ownership that would conflict with our adoption policies. 3. Once your application is approved, we will set up an appointment either to bring the cat to your home or meet you at a convenient place to complete the adoption process. In order to complete the adoption process an adoption agreement needs to be read, agreed to and signed by the person responsible for the adopted pet and our modest adoption fee must be paid. Veterinary records are provided as part of the adoption process. You will need a cat carrier to safely transport the cat at all times. 4. If you are approved for an adoption, we will ask that you purchase the same type of food that the cat has been eating. If you wish to feed the cat a different type of food later on, you will need to transition to the new food over a 10 day period otherwise the cat may experience gastrointestinal upsets. We do recommend using a premium food for all cats and kittens-good nutrition helps maintain the cat's health, coat, and teeth over its lifetime. Premium food is especially important for preventing urinary tract infections that can cause a cat a great deal of pain and even death. ALL CATS ADOPTED FROM S.W.R.O. COME WITH A 100% RETURN POLICY FOR THE LIFE OF THE CAT ADOPTED (we don't care if it is 5 or 10 years down the line). S.W.R.O PREFERS THAT THE CAT COME BACK TO OUR ORGANIZATION RATHER THAN ENDING UP IN A SHELTER OR FOISTED OFF ON TO SOMEONE ELSE.
ADOPTION FEES
Cats & Kittens $85.00
Pair of Cats or Kittens $135.00
Surrenders $100.00 We accept cash or checks made payable to Saved Whiskers Rescue Organization, Inc. AND we now accept PayPal. Please check out our Donations page to make a fast and secure payment using PayPal.
The animals available for adoption from S.W.R.O. come from a variety of sources. All our animals are examined and treated by a licensed veterinarian and their health is continually monitored while under our care. Our adoption fee includes all age-approprate vaccines, examinations, deworming, feline leukemia/FIV testing, microchip and nail trims. If necessary, treatment for fleas, ticks and ear mites will also be done. All these necessary treatments that are done would cost you much more if your vet were to do them for you. All cats wil be spayed or neutered prior to adoption unless the kitten is under 4 months of age. The adoption fee also helps to cover the expense of food and litter while the cat is in our foster care. S.W.R.O. is a not-for-profit organization. All fees go directly towards the care of cats rescued by S.W.R.O. We thank-you for considering our organization for adoption and we will do our best to assist you in finding the right animal that is compatible with your lifestyle. Please remember that S.W.R.O. reserves the right to approve or deny any application. No animal will be adopted to prospective owners who mislead and/or fail to provide accuarate information on the adoption application.