Official Press Release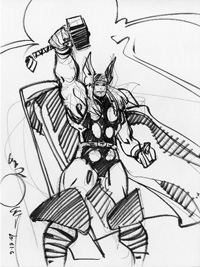 Voorhees, NJ - Saved Whiskers Rescue Organization, Inc. announced today that placing up for auction original art drawn by artist Walter Simonson, who had donated drawings of his signature characters Thor and arch enemy Loki characters - auctioned off in memory of one of the greatest and nicest artists who had ever lived - Mike Wierningo - back in September '07, and won by Dynamite President Nick Barrucci. Mr. Barrucci is now donating for a charity that he believes Mike Wieringo would have appreciated - Nick is donating his original Marvel's Thor piece by Walt Simonson and Marvel's Loki by Mr. Simonson as 2 donations of original pieces of art to the Saved Whiskers Rescue Organization, Inc. (S.W.R.O.). These piece will be auctioned through eBay at the following Links: LINK 1 | LINK 2
These incredible, and truly each one-of-a-kind pencil and inked portrait of Marvel's Mighty Thor and Marvel's Loki are currently up for auction on Ebay and the bidding will end May the 21st 2009! With the potential for strong bids, fans will want to jump on this once in a lifetime opportunity. And I urge fans who do not have the discretionairy money to big on this, to consider making a donation to Saved Whisker Rescue to help save other animals - from cats to dogs to any animal that will come across SWRO's way, and they'll save them. Here's SWRO's paypal account for those who wish to donate - https://www.paypal.com/cgi-bin/webscr?cmd=_s-xclick&hosted_button_id=5360492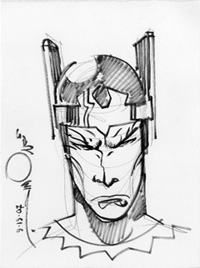 According to Todd DeZago- "One of Mike Wieringo's best friends and collaborators - "One of the great blessings that I've had in this life, is to have been great friends with Mike Wieringo. Not only friends, but collaborators as well, working on such characters as Spider-Man, Batman, the X-Men, and together creating the high-adventure, fantasy epic, Tellos. In bringing such stories--and worlds--to life, Mike used his unique style to illustrate worlds we WISHED we lived in.

Sadly, Mike was taken from us all too soon, suffering a sudden heart failure almost two years ago now.

Aside from getting to work with such colorful characters, Mike and I were also thrilled to meet and befriend one of our heroes, comics legend, Walter Simonson. Walt was one of the first to call me in shock and sadness upon hearing of Mike's death and was the first to offer his services (and talent) when Marvel Editor in Chief, Joe Quesada, and Dynamic Forces Head Honcho, Nick Barrucci, organized a tribute to Mike; an evening to honor him and to raise money for Mike's most passionate concerns, the ASPCA.

Mike loved animals, adored them, and it is only fitting that these two pieces, so generously drawn and donated by Walt, should go to raise both funds and awareness for our wonderful four-legged friends."

And now these pieces, which raised money by the ASPCA with donations by Nick Barrucci, are now being donated again by Mr. Barrucci for Saved Whiskers Rescue - and fans can help raise money for Saved Whiskers Rescue organization - check it out at their web address at www.savedwhiskersrescue.com

Walter "Walt" Simonson (born September 2, 1946) is an American comic book writer and artist. After studying geology at Amherst College, he transferred to the Rhode Island School of Design, graduating in 1972. His thesis project there was The Star Slammers, which was published as a black and white promotional comic book for the 1974 World Science Fiction Convention in Washington, D.C. (DisCon II). Some years later, he produced another version of the story in graphic novel form for Epic Comics, the Marvel Comics imprint that was a response to creator-owned lines of the early eighties. Simonson continued the adventures of the Star Slammers in a limited series in the mid-1990s as one of the founders of Malibu Comics' short-lived Bravura label.

Walter's best known for his work on Marvel Comics titles in the 1980s and 1990s such as The Mighty Thor and X-Factor (the latter being a collaboration with his wife Louise Simonson). 'Simonson took nearly complete control of Thor, during which he transformed Thor into a frog for three issues and introduced the supporting character, Beta Ray Bill, an alien warrior who unexpectedly proved worthy to wield Thor's hammer, Mjolnir. He started as writer & artist with issue #337 (Nov. 1983). Simonson's run as writer-artist lasted until #367 (May 1986), although he continued to write â€" and occasionally draw â€" the book until issue #382 (Aug. 1987).

If you can't afford to bid, please donate to: http://www.savedwhiskersrescue.com/donations.html or send a donation via paypal at: paypal@savedwhiskersrescue.com- It's a great cause!"

All Proceeds for the auction will be donated to the Saved Whiskers Rescue Organization, Inc. -- a non-profit 501(c) 3 cat & kitten rescue that is dedicated to saving the lives of countless felines.

"I'm so grateful to both Walter and Nick for their generous contribution. Saved Whiskers Rescue is a truly worthy cause. Walter's initial donation, now acquired and donation by Nick - well, the artwork is incredible! The funds from this auction will help us provide veterinary care and shelter for a few of the many stray cats and kittens that we come across, explained Pam Ott, President & Founder of Saved Whiskers Rescue. "This is a great opportunity for a lucky comic fan to own a one-of-a-kind piece of art and contribute to a dedicated and worthwhile cause like Saved Whiskers Rescue! Please be sure to view my other auctions as well."

To view the item or place a bid, visit:
http://stores.ebay.com/THE-MARKETPLACE-AT-SAVED-WHISKERS

For more information or donations to S.W.R.O., please visit: http://www.savedwhiskersrescue.com
This item is available now, via the links above, at the E-Bay.com link. Have fun, and do your part to help those that help so much!